Hey y'all! I'm super excited to be part of the November Sunday Street Team, which is The Anatomical Shape of a Heart by Jenn Bennett! I'm looking forward to picking up a copy to read because I've heard such amazing things about it. Today I have Jenn on the blog to share her writing environment! (Perfect for NaNoWriMo, eh?)
Jenn Bennett's Writing Desk
Readers always ask me where I write. I believe they like to envision it as some mystical place. I'm sorry to report that in reality, much like my brain, it's a cramped hodge-podge of a mess. Half writing nook, half drawing board for my artwork, THIS is where the so-called magic happens for me. I write nowhere else: no bustling coffee shops, no dreamy beaches, no quiet forests. Here's your exclusive tour:
1. Fancy notebooks: I write all my ideas for books in these. They are very specific: grid-lined, mostly Japanese, preferably square in shape, some A5 size, a few Rhodia from France (but their paper quality has gone downhill over the years—sorry, Rhodia). I have a wee obsession.
2. Oh, look. It's early galley-proof copies of some of my books! Are they sitting on a broken-down printer? Yes, yes they are. (Don't ask.)
3. A framed print of the cover of my very first book from 2011, signed by the cover artist.
4. I collect weird things, including vintage postcards of redwood trees from the California coast. You might wonder why I set all my books in California when I live all the way across the country in Atlanta. The short answer is that I used to live in Los Angeles.
5. What's that weird, clear pointy thing? Oh, nothing. That's just my Reviewers Choice Award that I won earlier this year from RT Book Reviews. *puffs up with pride*
6. The blue shadow box is from the 1940s. It's filled with strange and wonderful things, including: a Viking ship (my mom is Swedish), a lucky jade Chinese lion (I've traveled to China and Hong Kong a lot), a lucky 3-legged Chilean pig (do you sense a lucky theme going on here?), Momiji message dolls, an old photo of me and my dad (you can't see it, but I'm carrying a book—once a book lover, always a book lover).

7. Remember all those fancy writing notebooks? I've got a fancy pen obsession, too. My fave everyday Japanese pen is either the Hi-Tec-C Maica or the Pilot G-2.
8. Just your run-of-the-mill laptop. Why is there cardboard taped over the bottom? Because the trackpad drives me CRAZY. Take that, technology!
9. I use a lot of Prismacolor pencils in my artwork, and I separate them by color family in jam jars without the lids. The other jars in the background contain various art supplies: graphite pencils, blades, scissors, pastels, etc. (Bonus: I chew a lot of peppermint gum. I adore peppermint.)
10. German edition of The Anatomical Shape of a Heart (titled The Anatomy of Night in German).
11. Sharpies in a green Tiki mug.
12. Sketch of a raven. You know nothing Jon Snow.
ABOUT THE BOOK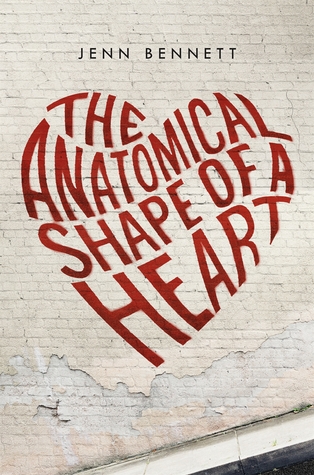 "Artist Beatrix Adams knows exactly how she's spending the summer before her senior year. Determined to follow in Da Vinci's footsteps, she's ready to tackle the one thing that will give her an advantage in a museum-sponsored scholarship contest: drawing actual cadavers. But when she tries to sneak her way into the hospital's Willed Body program and misses the last metro train home, she meets a boy who turns her summer plans upside down."
ABOUT THE AUTHOR
Jenn Bennett is the author of the Arcadia Bell urban fantasy series with Pocket and the Roaring 20's historical paranormal romance series with Berkley. She lives near Atlanta with one husband and two pugs.
GIVEAWAY!!