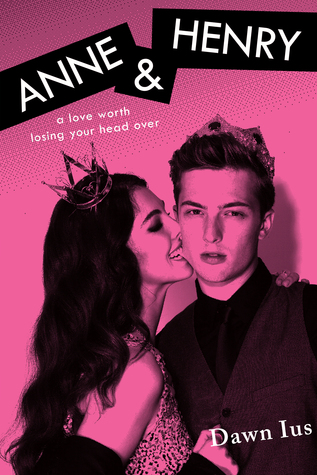 Anne and Henry by Dawn Ius
Publisher: Simon Pulse
Release Date: September 1, 2015
Source: Edelweiss
My Rating: 2 out of 5
In this wonderfully creative retelling of the infamous—and torrid—love affair between Anne Boleyn and King Henry VIII, history collides with the present when a sizzling romance ignites in a modern-day high school.

Henry Tudor's life has been mapped out since the day he was born: student body president, valedictorian, Harvard Law School, and a stunning political career just like his father's. But ever since the death of his brother, the pressure for Henry to be perfect has doubled. And now he's trapped: forbidden from pursuing a life as an artist or dating any girl who isn't Tudor-approved.

Then Anne Boleyn crashes into his life.

Wild, brash, and outspoken, Anne is everything Henry isn't allowed to be—or want. But soon Anne is all he can think about. His mother, his friends, and even his girlfriend warn him away, but his desire for Anne consumes him.

Henry is willing to do anything to be with her, but once they're together, will their romance destroy them both?

Inspired by the true story of Anne Boleyn and King Henry VIII, Anne & Henry beautifully reimagines the intensity, love, and betrayal between one of the most infamous couples of all time.
I've always been intrigued by the Renaissance history of King Henry and his wives – don't ask me why, I just love that time period with all of its scandals. So when I found out that Anne and Henry is a modern-day retelling of it, I knew I had to get my hands on this story. Sadly though, this one disappointed me to almost no end.
1. TALK ABOUT MAJOR INSTA-LOVE/LUST
---
I don't think I've ever encountered such a strong form of insta-love in any YA before. Through both Anne and Henry's POVs, they describe how hot the other one is endlessly and that's how they're attracted to each other. I felt no deeper chemistry or meaning behind their relationship and before I knew it, they were claiming "I love yous" and even believing that their love was more than just love. *rolls eyes*
2. I LIKED ANNE… AT FIRST
---
So Anne wasn't a bad character at all throughout the first half of the story. In fact, I thought she was:
+ bold
+ hard-shelled
+ not afraid to be sarcastic in a group where she didn't fit in
But then, once she "fell in love" with Henry, she became:
+ desperate to fit in with his group
+ drunk in love/stupid
+ irrational
3. DON'T EVEN GET ME STARTED ABOUT HENRY
---
I guess in the real history King Henry really was a player and did have multiple wives, so Ius does write true to the real King Henry in this retelling. But still – Henry is not likable at all.
4. SO WHAT MADE ME KEEP READING?
---
I guess what made me keep reading is what makes me enjoy the Renaissance time period so much: the scandal. Anne and Henry is brim-filled with drama and modern-day scandals. Even though the characters really did not work for me, the story was entertaining enough to keep me reading; but overall, Anne and Henry is not a story  I'd recommend.