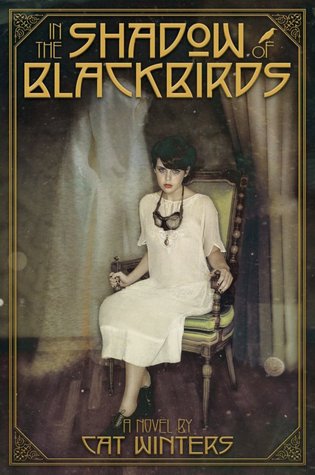 In the Shadow of Blackbirds by Cat Winters
Publisher: Amulet Books
Release Date: April 2, 2013
Source: Bought
Rating: 4.5 out of 5
In the Shadow of Blackbirds is a gorgeously written historical fiction that mixes in with the paranormal. Cat Winters skillfully allows the reader to learn about the West Coast in 1918 with the Spanish Influenza and WWI while blending in the fictional characters and spiritual obsessions of that time period seamlessly. In the Shadow of Blackbirds is my first book by Winters, and it surely won't be my last.
The most endearing aspect of this story is perhaps our main character, Mary Shelley Black. She's in this time period where it's a bad time to be alive: her father was sentenced to 20 years in prison for protesting, her boyfriend enlisted himself in the war, the Spanish Influenza is going around, and females in general have very little influence in the early 20th century. Despite all of this, Mary Shelley pulls through and I saw her as an admirable smart young woman who was curious and determined to kick down her obstacles.
In addition to an outstanding main protagonist, Winters allows the reader to peek into letters that Mary Shelley and the love interest, Stephen write to each other. Through these letters, the romance blooms and it's quite possibly the most tender and true romance I've ever read. Gone are the days of gossip-filled high schools with bitchy girls, cyber-bullying, and high technology in general. Mary Shelley and Stephen talk about genuine, thoughtful things in their letters, making their love tangible and believable, and one to root for.
Because of its spiritual aspect, this book definitely got a little creepy at times. Winters explores the Spiritualism extremely well; at the end of the book in the Author's Note, we learn that Spiritualism was, in fact, popular in the time of war because people were desperate to see their deceased loved ones once more in portraits and such. I like how Winters used this and formed the issues and doubt in side-characters.
In the Shadow of Blackbirds is overall a well put-together story in that every aspect was strong and makes for an engaging story. From an endearingly smart main protagonist to an accurate yet interesting portrayal of spiritualism in the early 1900s, In the Shadow of Blackbirds makes for a great historical fiction read to snuggle with under the covers.