The Summer I Turned Pretty by Jenny Han
Publisher: Simon & Schuster Books for Young Readers
Release Date: May 5, 2009
Source: Bought
Rating: 2 out of 5
I have heard SO many great things about Jenny Han's Summer series. After much anticipating, I have come to the conclusion that The Summer I Turned Pretty was so, so disappointing. My (non-reader) twin sister rereads this series every year because she LOVES it. But I just found that Belly was so naive all the time and her summer was all about spiting Conrad by dating other boys (poor Cam). And the plot was a drag! The entire story seemed like a diary entry of what happened in her summer with occasional throwbacks. I also felt that there was no climax in the story, and that there was no "end goal" to the story, it just kept going on and on until Belly's summer ended. After deciding that I wouldn't be continuing this trilogy, I went and asked my sister what happened in the rest of the books, and let me say: I'm glad I'm not reading the rest.
---
Me and Earl and the Dying Girl by Jesse Andrews
Publisher: Harry N. Abrams
Release Date: March 1, 2012
Source: Bought
Rating: 4 out of 5
I've had Me and Earl and the Dying Girl on my shelves for awhile now, but since hearing that it's becoming a movie, I was pretty curious to read it. But then I heard that it's about a girl with cancer and then I'm like, "Oh god, please let it not be like The Fault In Our Stars". AND IT'S NOT THANK THE LORD. This story is completely unique and unlike TFIOS. Jesse Andrews' writing is a little reminiscent of Andrew Smith in Winger in style and voice. Me and Earl and the Dying Girl is perceptive, thought-provoking, but also downright hilarious. Better yet, the main characters consist of two boys and one girl, and there's no romance. Yep, you heard me. Additionally, the format of this story is told in a unique way; Greg Gaines uses the screenplay format and utilizes scripts, regular text, and lists. Initially I thought this was going to be either hit or miss, and I'm happy to say it was a hit for me.
---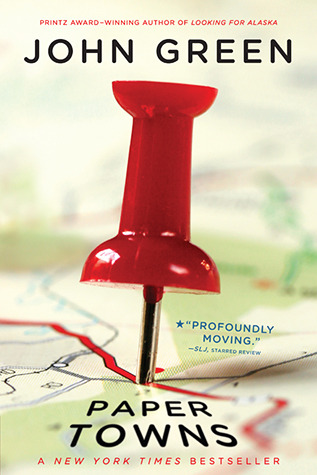 Publisher: Dutton Juvenile
Release Date: October 16, 2008
Source: Bought
Rating: 4.5 out of 5
I can honestly say that I'm getting tired of all of the hype around John Green & his movies, but I figured I would pick this one up because it's the last JG book of his that I haven't read that's on my own bookshelf. I had pretty low expectations because I was reading it simply to not feel guilty about having an unread book that I bought; therefore, I ended up really enjoying Paper Towns more than I thought I would. The quality that really worked in Paper Towns was its humor. Quentin's two best friends, Ben & Radar are so hilarious and pretty much kept the story going. I feel that Margo Roth Spiegelman was a little cliche manic pixie dream girl, but that seems to be Green's formula. Of course, there is the insightful life morals that Green adds towards the end of the story that really forces the reader to think. Overall, Paper Towns was incredibly engaging and enjoyable – it's probably my favorite book by Green.