I've always wondered how readers and myself DNF books and how we may possibly miss out entirely on what the rest of the book could have been and how it could have affected us. I usually DNF books pretty early on if I'm not feeling it. Alas, this post is not about DNFing books. It's about giving  books second chances.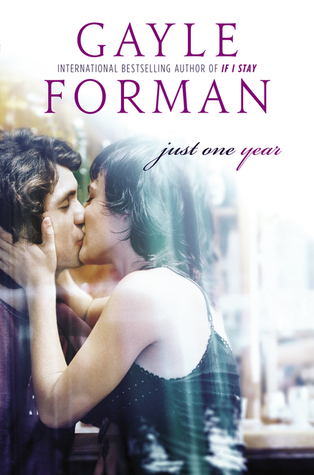 I recently listened
Just One Day
by Gayle Forman on audiobook (a reread) and promptly started listening to the sequel,
Just One Year
afterwards. However, 17% through the audiobook, Willem's point of view and story were not resonating with me whatsoever: it was boring and it seemed like Forman was just recounting A Day in the Life of Willem de Ruitter Post-Lulu. I DNFed
Just One Year
on Goodreads, when I got a comment from one of my favorite bloggers (and people), Grace from
Words Like Silver.
Now, one thing you must know is that I trust Grace, especially when it comes to books. Her comment on my DNF review of
Just One Year
said:
"Read it in print, I swear! The first is better but it's a solid read if you have the right format."
Reading her comment made me rethink: yeesh, maybe the audiobook really just doesn't work with Just One Year. I had been struggling with getting the European names of people that Willem surrounds himself with, so I thought maybe I would take Grace's advice and read it in print, just to see if I'll feel more connected to the story if I can get the names straight.
And connect I did. Immediately continuing the book in print made the story feel so much more tangible. If anything, I connected with Willem and understood his thoughts more clearly; it was like a blurry veil had been lifted upon reading Just One Year in print. I finished the book, and was left breathless. I enjoyed Just One Year more than its predecessor.
This is where I thank Grace for pushing me to give Just One Year another shot. If I had completely DNFed it, I would have missed out on Forman's gorgeous prose, the closure between Willem and Allyson, and the lessons Willem learns as he trots the globe from Europe to Mexico to India and back. Willem's story, upon finishing it, resonated with me more so than Allyson's in Just One Day.
So I guess what I'm trying to say here is to give books a second chance. Some books you may want to give a second chance after a week, or a month, or in my case, in a different format. I love audiobooks to death, but in the case of Just One Year, it didn't work. Sometimes all it takes is to see it in print and physically in front of you, to see the words run from line to line. But it can go either way: the print version isn't working out? Try the audiobook. Sometimes all it takes is having a human voice read it to you out loud.
So, thank you Grace. Thank you for providing me with the opportunity to view reading in a whole different perspective.