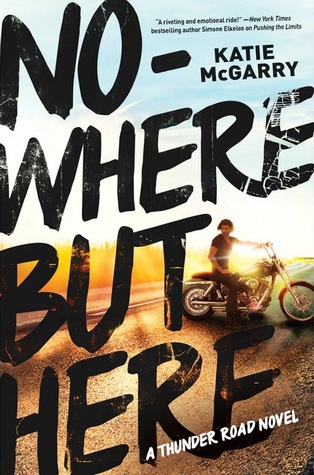 Nowhere But Here by Katie McGarry
Publisher: Harlequin TEEN
Release Date: May 26th, 2015
Source: Netgalley / Harlequin TEEN
Rating: 4 out of 5
The only other book I've read by Katie McGarry is Pushing the Limits, right before it came out a few years ago. Unlike most readers, I haven't gotten to the rest of those companion novels, for really no reason at all. I enjoyed McGarry's writing style and the characters she created and the plot wasn't bad, either. I decided to give McGarry another go with her latest Thunder Road series, with Nowhere But Here. I was enticed by the overall synopsis of Nowhere But Here: motorcycle clubs, danger, and family connection and issues – count me in. Nowhere But Here proved to be a heart-racing contemporary with only a few drawbacks.
For the first 30% of the novel, I was extremely hesitant. McGarry is brave to write about a scenario that is unique and foreign in contemporary YA (at least to me). Dealing with a family of motorcycle gangs and issues, McGarry goes into some detail about how this type of a family lives, functions, and performs differently than normal families in the suburbs. I wasn't all the way on board with the idea of the whole dangerous motorcycle brotherhood, but it certainly is interesting. Furthermore, McGarry dumps a WHOLE lot of characters on you right off the bat – I couldn't keep any of the character names straight. Who is whose dad? Whose brother is that? Wait, are they related? Honestly, a lot of the characters aren't necessary in this story, but I suppose they have to be introduced in some manner if McGarry is writing companion novels in this Thunder Road series.
Other than that, I learned to really love the main characters, Emily and Oz, who are also the two main first-person perspectives we get told the story from. Although Emily and Oz seem like the cliche pair at first – good girl, bad boy – McGarry manages to shape them into really well-rounded characters who have a lot of depth in both. Emily isn't just a good girl who follows all the rules; she's also a girl with fears that she must overcome. She's sassy and brave, with completely relatable emotions. Similarly, Oz may be the hottie on the outside, but he's not just a guy who wants to get into girls' pants. His love for his motorcycle family is genuine and I couldn't help but swoon for Oz for his beauty on the inside and outside.
Overall, I'm really pleased with McGarry's start to her new contemporary YA series. I'm definitely looking forward to the following companion novels! If you loved McGarry's previous works, you'll be sure to love her most recent one Nowhere But Here. Get ready for some major swoons, as always!