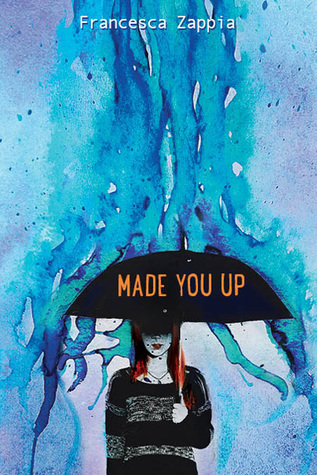 Made You Up by Francesca Zappia
Publisher: Greenwillow Books
Release Date: May 19, 2015
Source: Edelweiss / HarperCollins
Rating: 4.5 out of 5
What a special book.
Going into Made You Up, I knew that this book deals with schizophrenia and how a teenage girl has to deal with it, but I didn't know it would be such a compelling, touching read. From the opening chapters, I had a good feeling about it simply because of its quirky plot events and endearing characters. Francesca Zappia's debut will surely blow readers away with its beauty and thoughtful prose.
I really don't want to go much into the plot of the story, mostly because it's best left unknown for the reader. However, I can talk about the overarching idea: schizophrenia. This main idea is not one I'm too familiar with, but Zappia created a character, Alexandra, out of it that allows us as readers to understand the full capacity schizophrenia has on a person – both its harmful and helpful effects. Alex is a girl who was diagnosed with schizo at an early age. To make sure the things she sees are real, she takes pictures of them and looks at them later. As she grows older and throughout the entirety of the novel, she discovers that a lot of the things she saw when she was younger were in fact, imaginative. Alex's fear and disappointment  creates a feeling of sympathy and love for her character; I know that for myself, I feared for her at what was real and what wasn't.
The surrounding characters are quirky and lovable as well. Alex tries to be as normal as possible, and tries to hide that she is crazy. Luckily, the people she surrounds herself with are genuinely her friends and love her for who she is. The safety net of her friends is extremely heartwarming.
Made You Up is not just a story about a girl who has to learn how to deal with her schizophrenia lifestyle; it's about how everyone in the world must deal with their own brand of crazy. I am thoroughly blown-away by Made You Up and how spectacular Zappia's storytelling is. If you're in the mood for a quirky, thought-provoking read, Made You Up would fit that role perfectly.