I'll Meet You There by Heather Demetrios
Publisher: Henry Holt and Co. (BYR)
Release Date: February 3, 2015
Pages: 400
Source: Online Library
Rating: 3.5 out of 5
Let's get this out there: there is TONS of hype surrounding I'll Meet You There. Before I started this book, I took a deep breath and prepared myself for all of the emotions that would explode right before my eyes, and gathered tissues for all of the feels. To be honest, I really shouldn't have let the hype get to me because I'll Meet You There disappointed me a bit. It was, by all means, still a great story, but I didn't feel that WOW; it didn't blow me away like it should have. For me, it read like a typical New Adult story. Josh just came back from the Marines with only one leg and he's struggling with PTSD with the death of a close friend during combat. Skylar's kind of in purgatory as well: she's getting ready to leave her small town and go to San Francisco for college. The relationship they develop is confusing for them and they help each other find the perfect balance. For me though, I didn't feel that Josh was… genuine. There's nothing more I hate than boys who sleep around with girls just because they're bored. It's hard for me to grasp that he'll stay loyal to any girl, particularly to Skylar. I see their chemistry there, I do, but there's just a disconnect between me and them. While the majority of readers loved I'll Meet You There, I have to step aside and admit that it was a letdown and that I expected much more from Demetrios.
---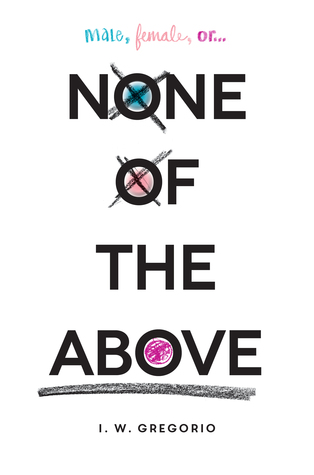 None of the Above by I.W.Gregorio
Publisher: Balzer + Bray
Release Date: April 7, 2015
Pages: 352
Source: Edelweiss/Harper Collins
Rating: 3.5 out of 5
None of the Above by I.W. Gregorio is, by definition, a read that preaches awareness about intersex. I was a little hesitant in picking this up because I knew nothing about intersex, but after flipping the last page, I'm glad that I decided to pick this one up. I appreciate Gregorio for putting this YA Contemporary out there for readers to understand the sensitivity of intersex. The plot itself is pretty normal: Krissy is a popular girl dating the most popular guy at school, until she finds out she is intersex. She needs to turn her life around by coping with being intersex. None of the Above explores the social and mental effects of discovering one to be intersex, mostly how bullying comes into play. Gregorio does a good job of educating the reader about what exactly intersex is without info-dumping and making it too biological. There's not much else to say about None of the Above; if it weren't for the diversity of the novel, the plot would be pretty average and not over-the-top exciting. However, I would recommend it if you're curious or open-minded to learning more about the LGBTQ+ community.