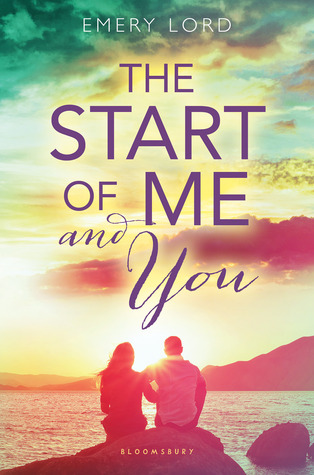 The Start of Me and You by Emery Lord
Publisher: Bloomsbury
Release Date: March 31, 2015
Pages: 384
Source: Netgalley/Bloomsbury
Rating: 4.5 out of 5
By now, you must of have seen Open Road Summer, Emery Lord's 2014 debut novel, on many readers' end-of-the-year favorites. I felt no differently–Open Road Summer was light, extremely adorable, and definitely a fantastic read. I was more than excited when I received an early copy of her sophomore novel, The Start of Me and You. I was quite possibly bouncing-off-the-walls excited. With a promising synopsis, breathtaking cover, and positive thoughts from her previous book, I knew The Start of Me and You was going to be just as good as her debut, if not better. I was correct.
The Start of Me and You tells the story of Paige Hancock, whose boyfriend drowned about a year ago. She wasn't too close with him at the time of his death, but his death still haunts her because he died at such a young age, and so suddenly. Starting her junior year of high school, she's ready for a fresh start with her three best friends Tessa, Kayleigh, and Morgan. She even goes so far as to make a "plan" so she follows through.
Lord's ability to create a thorough cast of characters is beyond me. Every. Single. Character in The Start of Me and You plays some central role in Paige's life. It's like every secondary character was important in Paige's character growth as a whole. I love how integrated each character was in her life, whether they be inspirational, a shoulder to cry on, or someone who helps Paige realize that she herself is a good friend. Everyone from her bratty pre-teen sister Cameron, to her Honors English teacher/Quiz Bowl coach Ms. Pepper. Even better were her three best friends: they were all distinct and had a role in the friendship. Somewhere in the story, Paige described herself and her three friends as four walls who held each other up, and I could wholeheartedly understand and see that in the story.
Perhaps the best part of the story though–and also what Lord does best–is the romance. In Open Road Summer, it was slow-burning and romantic. In The Start of Me and You, it's the exact type of romance I love: friendship to romance. The thing about the romance in this story is that it's there the entire time, just under the radar. It sneaks up on not only Paige, but also the reader. That's when you know it's real. Also a quality that I thought was particularly strong was that Lord didn't spend much time describing the love interest's physical characteristics; in the end, I knew more about the boy's personality, quirks, and background than his appearance. Another beautiful romance written well.
Where Open Road Summer was lighter in tone, The Start of Me and You brought on a darker issue that causes the main character to build herself up and away from her obstacle in order to recover from her past. Emery Lord's strong suit definitely holds in the characterization department in this book, with a wide, unique cast of characters, yet with a deep focus on each character. The romance made my heart flutter and best of all, surprised me. Fans of heartwarming, satisfying romantic contemporaries will LOVE The Start of Me and You.