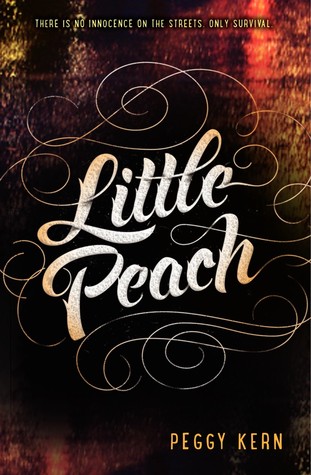 Little Peach by Peggy Kern
Publisher: Balzer + Bray/HarperTeen
Release Date: March 10, 2015
Pages: 208
Source: Edelweiss/HarperCollins
I recently read a book called Little Peach by Peggy Kern. I went into this knowing that it's about child prostitution, and that it wasn't going to be a comfortable read. However, I didn't know Kern was going to hit me that hard in the face.
The story follows a girl named Michelle, from age 5 to age 15, where she struggles in her household with a mother who's practically nonexistent and a sexually abusive man, her mother's "boyfriend". Her life isn't easy at home, so she runs away to New York City to a community called Pink Houses, which was recommended to her by a fellow friend back home.
Pink Houses is deceptively happy, and is also the place where child prostitution takes place. While the story is fictional, the issues are entirely real. Kern writes an intense, disgustingly realistic novel, and every page made me cringe. I didn't cringe because the book was written badly. I cringed because of how raw and wrong our world is. Kern portrayed it as best as she could, and it was painful to read. Children in America have to go through this? THIS? It's gruesome, dark, and unbelievable. But I know it's true.
I'm president of my school's Key Club and we've been working together with an organization that helps teens that have been human trafficked. If you have never heard of that term before, it basically means humans that have been bought/sold, and usually for sexual exploitation. My club and school district donate to these teens in need of clothing and food, but I haven't really actually thought about the pain and nightmares they endure before they are saved. Peggy Kern opened my eyes to this. This is a serious issue, and I'm so happy Peggy wrote this book.
I tweeted some Goodreads status updates while reading this book, and Peggy saw them and responded:
I highly encourage everyone to read this book, just to be aware. And if it inspires you to help, go forward with it. I know it has impacted me so much that I will definitely book-push Little Peach towards others, too. Little Peach is a short, yet packed read that leaves your heart rough around the edges and your brain thinking. Thank you, Peggy.