Going Too Far by Jennifer Echols
Publisher: Pocket Books/MTV Books
Release Date: March 17, 2009
Pages: 245
Source: Bought
Rating: 4 out of 5
Going Too Far is my first foray into Jennifer Echols' books! I honestly wasn't sure what to expect because I know Echols is a popular contemporary writer, but some people don't like her books. In a way, I went into Going Too Far with no expectations. The reader is introduced to the main character Meg, a fiery girl with vibrant blue hair. The first scene we find her in is of her making out with a no-strings-attached boy by the train tracks, and her getting arrested for loitering. The reader doesn't get the best impression of Meg, but talk about hook, line, and sinker. I somehow got sucked into Meg's story! Going Too Far is an addicting read – similar to the way that New Adult is addicting – and I'm very pleased with my first read of Jennifer Echols'. The romantic relationship that builds between herself and the young cop is slow, burning, and extremely satisfying. If all of Jennifer Echols' romances are this good, call me her newest fan.
---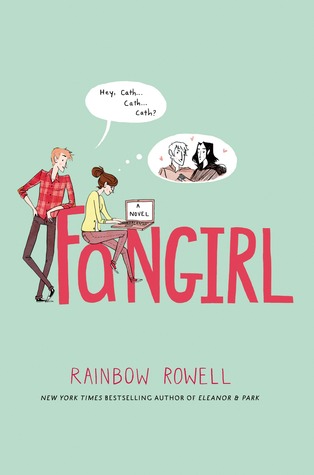 Publisher: St. Martin's Griffin
Release Date: September 10, 2013
Pages: 433
Source: Bought
Rating: 4.5 out of 5
Rainbow Rowell is magic. Her words form perfection and her writing style that crafts these characters are just so incredibly lovable. Fangirl was no exception.
The first of many qualities that I loved about Fangirl was most definitely the relatability of the characters. Cath is an identical twin entering freshman year of college, which, is pretty much me. I couldn't help but love Cath instantly because I understood her like THAT. She's absorbed into her fanfiction stories of Simon Snow, a story much like Harry Potter in our world. I could totally see myself in Cath's shoes, holed up in my dorm room in just a few short months, except reading, not writing fanfic. Cath's relationship with her dormmate, Levi, and her twin sister are distinct and they really helped shape her into a well-rounded character. Lots of obstacles come in front of Cath's path as a new adult, and I feel that Rowell did portrayed a new adult's decision realistically through Cath.
The one drawback in Fangirl was the little snippets and excerpts of Simon Snow and Cath's fanfiction of Simon Snow. I was much more invested in Cath and Levi's story, and I felt that the Simon Snow aspects drew the attention away from Cath too much. However, it does add an element of authenticity, as I'm sure every reader is a fangirl of Harry Potter, making Cath all the more relatable.
Fangirl was un-put-down-able, addicting, and simply magical. I will always be a sucker for Rainbow Rowell's contemporaries because of her writing style, adorable romances, and well-crafted characters. Fangirl is a must read for all contemporary lovers!