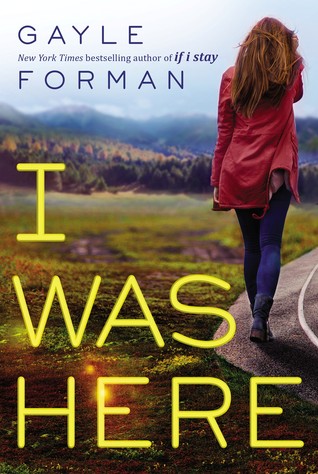 Publisher: Viking Juvenile
Release Date: January 27th, 2015
Pages: 288
Source: Library
Rating: 4 out of 5
By now, if you don't know who Gayle Forman is or you haven't heard of her, you might consider catching up with the YA world. Being the well-known author of If I Stay and also notorious for writing the perfect kind of FEELS, I was of course intrigued to pick up her newest release, I Was Here. While I have to admit that Forman's books don't seem to impact me the same way they do for other people, I'm still a fan of her emotional contemporary novels. With this, I feel that I Was Here was a bit sub-par from her previous works, but still well-written all the same.
For the most part, I was sucked into I Was Here because of the mystery behind Cody's best friend Meg's suicide. Cody is grieving just like Meg's parents are, but Cody is hurt because she had no idea. Meg did not show any signs, but they had been apart for a while because of college. There seems to be a different reason every time someone commits suicide, and the most interesting situations are when the person doesn't show it at all. I felt for Cody in that she wanted so badly to know what happened to her best friend. I understood her need to fulfill that duty and redeem herself.
With the mystery comes new people that were involved in Meg's life in college. Cody visits Meg's dorm roommates to see what she can discover about Meg's life right before the suicide. We also get a glimpse of Meg's family from Cody's perspective, and I loved her relationship with Meg's kid brother, Scottie. It's innocent and real, just a little spark of youth and light to brighten up Cody's life without her best friend.
With the people that Cody meets though, she develops a romantic relationship with someone from Meg's past. There did NOT need to be a romance in this book!! In previous Gayle Forman books, specifically in If I Stay, the romance worked–it was emotional, true, and I felt the chemistry. But in I Was Here, it was too fast, push-pull, and it just seemed wrong in a time like this. I can see why she put in a romance, possibly to give Cody more hope and recovery from her best friend's suicide, but it makes it seem like one requires a romantic lover to recover from grief/depression.
I Was Here was a solid story with a relatable main protagonist and riveting plot, but the romance was not necessary, and wasn't done well. If you are a HUGE fan of Gayle Forman, you may still want to pick it up, but in my opinion, it does not live up to her previous books.