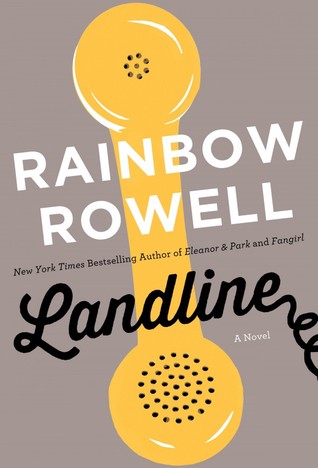 Publisher: St. Martin's Press
Release Date: July 8, 2014
Pages: 320
Source: Library
Rating: 4.5 out of 5
First: I LOVE RAINBOW ROWELL.
Second: It took me waaay too long to finally get to Landline. I really regret it.
Having read and LOVED Rainbow Rowell's Eleanor and Park 2 years ago, I'm honestly not sure why it took me so long to pick up Landline. Maybe because it's adult? Quirky? I'M NOT SURE but I absolutely loved Landline. I went into it knowing pretty much nothing, and that was a wonderful surprise.
The thing about adult books that deal with relationships (specifically, marriages) is that it makes it hard for me to connect to the main character because, well, I'm 18 and NOT married. How am I supposed to know what a marriage is SUPPOSED to be like? But what Rowell does is she gives the reader a clear image and I was actually really able to enjoy and relate to the main character. Georgie McCool is married and in love with her husband Neal, as is he. But they have issues. And two adorable little daughters. She writes scripts for television, and her best friend Seth is her writing partner. And that's pretty much where the story kicks off.
There's not much else to say about Landline. Rowell is boss at forming characters that are so well developed and just SO REAL. They legitimately seem like real people– just so TANGIBLE. And I sympathized with Georgie a lot through her confusion and struggles with her husband.
This book is just really cute and feels and funny and so SATISFYING. Something about Rainbow Rowell's writing, you guys. I don't know how to describe it. Landline was refreshingly good and it definitely re-invigorated my love for Rowell's books. I must read Fangirl very soon!!