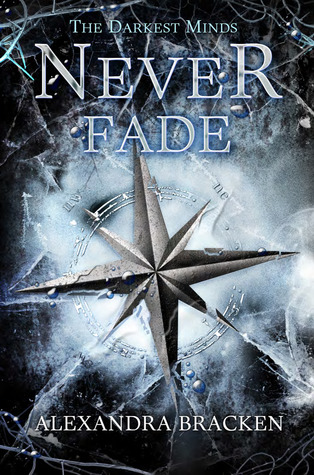 Never Fade (The Darkest Minds #2) by Alexandra Bracken
Publisher: Disney-Hyperion
Release Date: October 5, 2013
Pages: 512
Source: Library
Rating: 4.5 out of 5
*NO SPOILERS*
Never Fade by Alexandra Bracken is the second installment in The Darkest Minds trilogy, and while the first book, The Darkest Minds, didn't absolutely blow me away, it left on a pretty intense FEELS cliffhanger, so I had to pick up the next book immediately. I can happily say that Never Fade was much better than its predecessor, and that I am fully and emotionally invested in this series now.
What I loved about book one was Bracken's ability to fully shape and develop each character, making it really easy for me to connect with everyone. I'm so glad that she continued with this in Never Fade. We meet new kids with new abilities in this sequel, and Bracken doesn't hold back with the characterization. Not only does she fully develop the new characters, but she also builds on the characters that were in The Darkest Minds. Our main character Ruby grew significantly in book one, but we see her as an older teenager now, closer to woman than girl. She faces new conflicts that cause her to question herself, which is true growth to me.
Where The Darkest Minds had a section of the story with VERY slow-pacing, I felt that Never Fade was fast-paced and captivating the entire time. There was almost non-stop action, and even those without action were meaningful in the character development and bonding between the characters. Never Fade was just overall less boring than its predecessor. We get more information about the world itself, which is what I had issues with in the first book. We're getting closer to answers!
I'm extremely anxious to see what happens in the third and final book, In the Afterlight. With the successful path that Never Fade took with amazing characterization and engaging plot, I have no doubts that In the Afterlight will do the same.