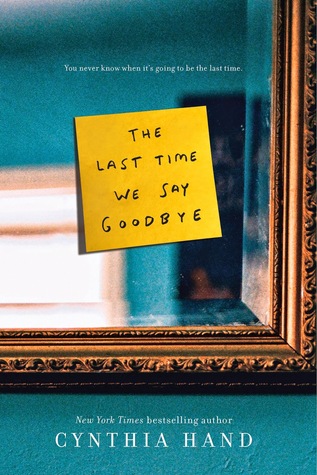 The Last Time We Say Goodbye by Cynthia Hand
Publisher: Harper Teen
Release Date: February 10, 2015
Pages: 400
Source: Edelweiss/HarperCollins
Rating: 4.5 out of 5
The Last Time We Say Goodbye by Cynthia Hand is a story about a girl whose brother commits suicide after her parents get divorced. Stranger than ever because the girl, Alexis, has no idea why her brother Tyler killed himself. This is the story of coping with that kind of pain and discovering why. The Last Time We Say Goodbye is a touching, emotional book that is also uplifting and hopeful. Cynthia Hand knows how to connect to the reader in ways that very few other authors can do.
In most suicide-based stories, the main character is pessimistic and sarcastic because they are forced to go see a therapist, are usually anti-parental figure and rebellious. We see a bit of that in Alexis, but she has a stronger relationship with her mother because her father no longer lives with them. While Alexis is reluctant to go see a therapist, she obediently does so, and actually gets something good out of it. She is suggested by her therapist to write in a journal about her life with Tyler, and through this, the reader gets to see flashbacks of her strong sibling relationship. Alexis would have been a very flat, typical character had it not been for her dynamic interaction with the other characters such as her mom, math teacher, group of friends, and even loner boy at school. I really enjoyed how Alexis has a different relationship with everyone, and it shaped her into a very round character– more three-dimensional.
I was not expecting The Last Time We Say Goodbye to have kind of a ghost/hallucination aspect. After Tyler's suicide, Alexis sees Tyler in her house and smells his cologne. This brought on a mystery and intriguing quality into the story, which I actually really liked since it served a purpose. These delusions lead to Alexis bonding with an old friend, yet again another character dynamic.
The quality that really made me love the book was the lack of a romance! Of course, we see Alexis' relationship with a boy named Steven pre-Tyler-suicide, but during the present time of the story, Alexis doesn't need a romance to heal her grief for her brother's death. That's what I loved so much. It's so typical to see depression/suicide stories that have a romance to "heal" the main character, but there isn't one in this story. For me, that really shows that Alexis is a strong character all by herself.
Overall, The Last Time We Say Goodbye is an addictive read because of its powerful character dynamics, unique ghost aspect, and lack-of-romance. Cynthia Hand doesn't use the typical formula for a suicide story, and she sure knows how to sucker-punch right in the feels. If you love Cynthia Hand's Unearthly trilogy, definitely be sure to pick up her contemporary. She's skilled in that department, too!