Earlier this month, I joined forces with my three very good blogging friends and decided to restart Epic Recs! You can check out the post here! In short thought, I was book-pushed to read The Darkest Minds by Alexandra Bracken, thanks to Aneeqah from My Not So Real Life.
EPIC RECS – JANUARY REVIEW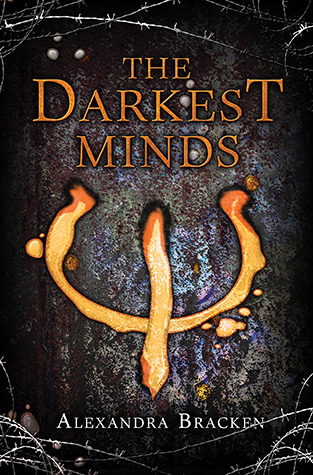 The Darkest Minds by Alexandra Bracken
Publisher: Disney Hyperion
Release Date: December 18th, 2012
Pages: 488
Source: Bought on Kindle
Rating: 4 out of 5
Going into The Darkest Minds by Alexandra Bracken, I had known three things: 1) The ratings on Goodreads are super high, 2) It's set in a dystopian world, and 3) It's about kids with super powers. Other than that, I went into it pretty blindly. While I think the hype got to me a little bit, The Darkest Minds still turned out to be a pretty fantastic read, especially because of the well-developed characters. My only drawbacks are with some slow-paced parts in the plot, and a bit with the world-building.
The Darkest Minds starts off with a bang with an introduction to the futuristic America where kids die off if they don't have special abilities. In this world, the kids with powers are feared and put into camps where they suffer. The reader is immersed into this world while not knowing much, and that's exactly what Bracken loves to do. I think Bracken loves to dump the reader into a jar full of information, and explain later. This peaked my curiosity, but also drove me to confusion at some points. This is also where I think the world-building was a little shaky. While Bracken doesn't info-dump, I feel that some crucial explanations of this world are left out.
The plot also slows down dramatically after about 100 pages, and I grew really bored. However, Bracken saves the book with the introduction of other kids with special abilities.
The characters are definitely what I loved the most about The Darkest Minds. Before our main character Ruby meets the new band of kids, she is weak, confused, and still child-like. I hoped that she would endure some character development, or I would seriously dislike the book because of her. After she meets the band of other teens though, she is able to learn and work together with them. She begins to understand herself and her strengths, but also smart enough to brave her weaknesses. The band of teens include Liam, Chubs, and Zu, all of which were highly endearing. They all worked really well together, and I couldn't help but get attached to these group of kids myself.
There is a romance in this book, and I have to admit that it COMPLETELY snuck up on me. I knew the guy was the love interest the moment I met him, but it was so gradual but fast at the same time. It's definitely ship-able though. On the contrary, the villain in this book is SO VILLAIN-Y AND HATE-ABLE. Claps to you, Bracken.
In short, The Darkest Minds was a pretty good dystopian novel, but what really sold me to immediately read the next book was the ENDING. My jaw actually dropped as I read the conclusion, and I was screaming "NO NO NO NO ALEXANDRA BRACKEN YOU CANNOT DO THIS TO THE CHARACTERSSSSS." It was frustrating, but I also it makes me NEED know what happens next. It made me realize how attached I had become to the characters. The slow pacing and shaky world-building were excused with my love for the characters and the fantastic ending. I am more than excited to be continuing with the next installment, Never Fade.
---
Be sure to check out:
Aneeqah's review of Take Me On
Vy's review of The Beginning of Everything
Willa's review of The Retribution of Mara Dyer