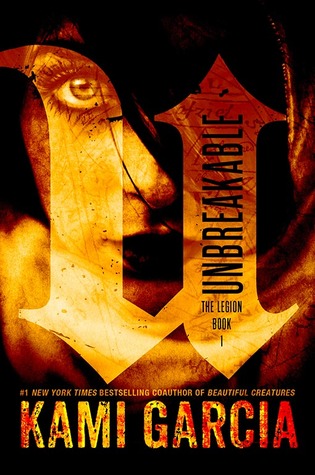 Unbreakable (The Legion, #1) by Kami Garcia
Publisher: Little, Brown Books for Young Readers
Release Date: October 1, 2013
Pages: 305
Source: Netgalley/Little, Brown Books for Young Readers
Rating: 4 out of 5
I was really interested in reading The Legion trilogy when I found out it was about demon hunters. I'll be honest here, I was intrigued because I thought it would maybe be similar to Cassandra Clare's The Mortal Instruments series. While Kami Garcia's solo trilogy is nothing like TMI, I still highly enjoyed the first two books for what they are.
We jump into Unbreakable knowing that Kennedy Waters has no idea of the demon world until her pet cat Elvis is possessed and her mother is murdered. Soon afterwards, she meets four other teens who pick her up to become part of The Legion, a group of demon hunters. Thus, we start the journey of The Legion.
I was so not expecting this story to be SO SPOOKY. Vengeance spirit after the other, each demon was creepier than the one before. Garcia made chills run up and down my spine and made goose bumps pop all over my arms. I loved the creepy mood and environment in this book!
Another quality I liked in Unbreakable was the crew of teens. We have Jared and Lukas, the twin boys that are mysteriously different and fun to read about. We have Alara, the spunky, bad-ass girl who is hard to like at first, but slowly warms to Kennedy as well as the reader. Then we have Priest, a younger teen, but a genius engineer. Also a little quirky, but in the good way.
The only drawback I had was with the romance. It starts off as a sort-of love triangle, but Kennedy soon chooses between Jared and Lukas. I was hesitant of the romance, and I still kind of am. It's not the most believable thing, and it gets in the way of the plot a bit.
Shaky romance aside, Unbreakable was a solid paranormal read. I loved the spooky vibes, the fun group of teens, and the world of the demons. It's intense and gripping, which definitely didn't stop me from immediately picking up book two.
---
Unmarked (The Legion, #2) by Kami Garcia
Publisher:Little, Brown Books for Young Readers
Release Date: September 30, 2014
Pages: 400
Source: Netgalley/Little, Brown Books for Young Readers
Rating: 4 out of 5
*NO SPOILERS*
Knowing that book one was extremely creepy, I was waiting for the same chills with my bed covers pulled up to my chin, but Unmarked didn't have the same creepy mood. Nevertheless, I still really enjoyed this one. A solid sequel.
As mentioned before, Unmarked is far less scary. The crew is still hunting demons, but just one: the main one. However, this led to A LOT more action scenes! It's still just as gripping and un-put-down-able. Page after page!
Again, the romance is still iffy for me on this one, but I found myself minding it less because it creates a lot of tension in the story, and things are higher at stake because of the romance. It made sense that there needed to be a romance (sorry for being so vague, I'm trying not to spoil!)
I loved the plot twist in this story!! I can only imagine what's going to happen in book three.
Overall, Unmarked sits on pretty much the same level as its predecessor. It has its differences in mood, but its overlapping theme of INTENSITY is certainly still there. I'm enthralled by this paranormal series that Kami Garcia has written, and I'm excited for book three! I definitely recommend you to pick up this series around Halloween time.
---
Have you read The Legion series?