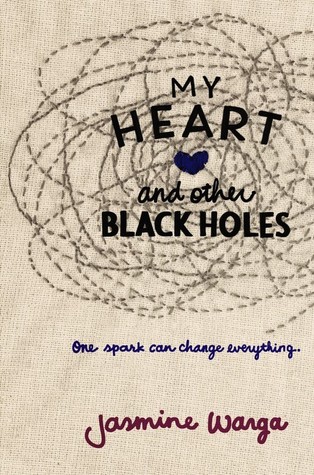 My Heart and Other Black Holes by Jasmine Warga
Publisher: Balzer+Bray/HarperTeen
Release Date: February 10, 2015
Pages: 320
Source: Edelweiss/HarperCollins
Rating: 4 out of 5
My Heart and Other Black Holes by Jasmine Warga is a touching, uplifting contemporary about two teens who come together to plan their suicide. Aysel wants to die because of something her father did, and she's scared she's going to turn out the same way. Roman wants to die because he feels guilty for his sister's death. As Aysel and Roman count down the days until their planned suicide date, they both do not anticipate the bonding that happens in between. While this is a central point in the story, the relationship between Aysel and Roman was my issue area with My Heart and Other Black Holes. However, the rest of the story is eye-opening and wonderfully written.
The book is off to a great start from the beginning: we meet Aysel, a snarky, sarcastic character with a bit of dark humor. She's depressed and just doesn't care anymore. However, we learn that she loves physics, and is extremely intrigued with potential and kinetic energy. This totally gave off a Falling into Place vibe, and I loved Aysel's voice. I knew I was in for a great story.
However, after Aysel meets Roman, my excitement for the story died off a little. It's not that I didn't like Roman–he's a bit plain though–but their relationship didn't hit it off. I knew a romance was coming, and I never really actually felt their chemistry throughout the entire story. They certainly bond when they plan the suicide and put on a  façade that they are on the road to recovery when the "bond" and "hang out", but I didn't feel it. For me, the story would have been a lot better if there was no romance.
While I didn't like Aysel and Roman together, I did like Aysel individually, especially her character growth. We see how she gradually begins to appreciate her life, her family, and her teachers, now that she knows she has an expiration date coming very soon. This was the part of the story I liked the best. The growth, the hope. I was rooting for Aysel to win, to conquer suicide.
In the end, I would have liked some more closure, since I still have some questions about Aysel and her father. However, the story does end on a satisfying note, so I'm not complaining. My Heart and Other Black Holes has its beautiful moments with character development and progress, but the relationship between Aysel and Roman didn't really work for me. Nevertheless, My Heart and Other Black Holes is certainly an important story, and I advise everyone to check it out.