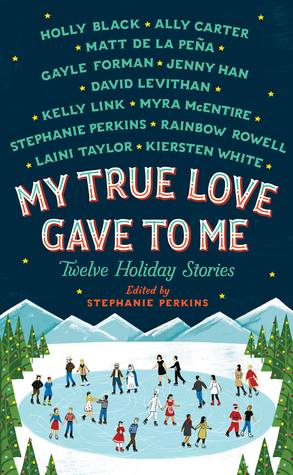 My True Love Gave to Me edited by Stephanie Perkins
Publisher: St. Martin's Press
Release Date: October 14, 2014
Pages: 320
Source: Netgalley/St. Martin's Press
Rating: 4 out of 5
My True Love Gave to Me is one of the few anthologies I have read in my book blogging career, and I've simply avoided them because they didn't feel like wholesome stories, or there wasn't time to connect with the characters. However, when I found out that STEPHANIE PERKINS (aka my favorite author) was editing a HOLIDAY anthology, I almost cried. Of course I was going to read it! I can happily say that My True Love Gave to Me was extremely adorable and awesome, with one exception out of 12. It made me feel warm and cozy, and even a bit nostalgic at times.
The anthology starts off with a bang: Rainbow Rowell's story! It's a fantastic New Year's Eve story, and just what I expected from Rowell. I had high hopes for the rest of the short stories. Then came Kelly Link's story, an author I had never heard of before. Sadly, Link's story was the one I disliked out of the twelve. It was so completely quirky, but in a bad way. I feared that there would be more of these strange holiday stories, but the rest of the book was fun.
All of them are romances, and I have to say, Stephanie Perkins' or Matt de la Pena's (another author I have never heard of) were my favorite stories. The romance was just done SO WELL in both! Stephanie Perkins because OBVI. Her story particularly reminded me of Anna and Etienne. FEELS. But I was pleasantly surprised with Matt's. Jenny Han's story was about elves, but it made me feel so nostalgic, instantly making it into the top faves from this anthology.
Overall, My True Love Gave to Me is the perfect holiday read, and can be a wonderful gift to give around this time of year. It's heartwarming and completely satisfying even if you're single. 😉 Another great piece from Perkins!
---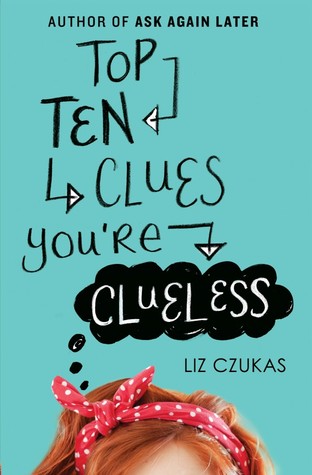 Top Ten Clues You're Clueless by Liz Czukas
Publisher: HarperTeen
Release Date: December 9, 2014
Pages: 304
Source: Edelweiss/HarperCollins
Rating: 3 out of 5
Once I read the first few pages of Top Ten Clues You're Clueless,I instantly received that light, easy, relaxed vibe. Liz Czukas' writing style has that feel to it that is extremely comfortable to read. Top Ten Clues You're Clueless is a very cute story but had its flaws.
The "Top Ten" aspect was intriguing and unique, and while I understand that it's part of Chloe's character, I found that the lists that are thoroughly placed in the story sometimes disrupted the storytelling. They were inserted a bit too frequently. Additionally, while the story is set in a 24-hour time period on Christmas Eve day, there was hardly anything related to the holiday season, really. The story could have easily taken place, say, in the summer. I wish there was more Christmas-y things happening in the story.
The plot itself was interesting at first, but died off towards the end. The dilemma dragged for too long, and the ending was anticlimactic. The main goal of the story was to show that this group of teen workers at a grocery store bonded while being stranded in a dire situation, but it could have been more interesting.
Aside from the negative aspects of Top Ten Clues You're Clueless, the romance was subtle and realistic. Chloe's just a teenage girl that has a crush on a cute, chivalrous guy. I liked how the romance wasn't over-the-top. Also, Chloe herself was so relatable! Clumsy, not perfect– she just screams teen girl. Czukas really captured her voice well!
While Top Ten Clues You're Clueless had its flaws, I still really enjoyed this cute contemporary. It could have been a little more holiday-y, but I'm definitely looking forward to Liz Czukas' other works.