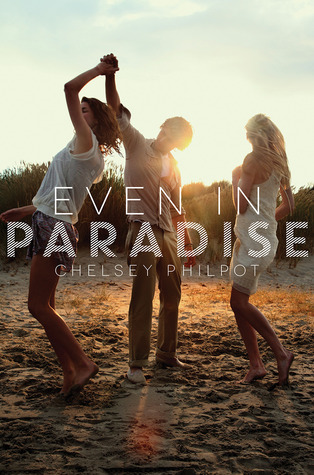 Even in Paradise by Chelsey Philpot
Publisher: HarperCollins
Release Date: October 14, 2014
Pages: 368
Source: Edelweiss/HarperCollins
Rating: 4.25 out of 5
The cover of Even in Paradise screams summer, fun, and lightness. This book is anything but. I was certainly expecting a read that would just be a quick, mindless read. That's not what I got at all. Instead, I read a lovely and quiet  story about a girl and her friendship with the Buchanans. Even in Paradise is slow-paced, but the good kind. You know when a story is slow-paced but is laced with beautiful storytelling? Yep, that's it. Even in Paradise had that We Were Liars storytelling vibe, but without all of the crazy psychological stuff. I seriously thought the writing was beautiful.

Even in Paradise is a contemporary, but it's truly unlike anything I have ever read. I thought it was unique and breathtaking, and unequivocally worth the read. It's a book that is meant to be read slowly but surely. Definitely pick up Even in Paradise when you get the chance.
---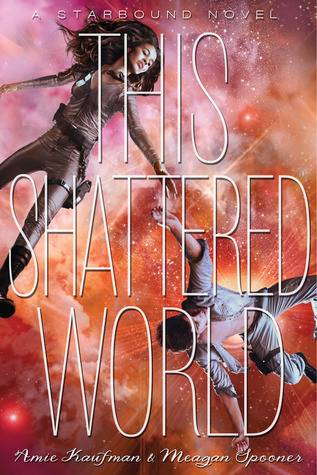 This Shattered World by Amie Kaufman and Meagan Spooner
Publisher: Disney-Hyperion
Release Date: December 23, 2014
Pages: 390
Source: Netgalley/Disney-Hyperion
Rating: 2 out of 5
It breaks my heart to say this, but This Shattered World was so disappointing.
Its predecessor, These Broken Stars, was out-of-this-world AMAZING, and it was one of my favorite reads last year. However, This Shattered World was so boring in comparison. Basically:
1 – SO many characters. I was not invested in any of them, and they just made the story more confusing.
2 – the plot was really messy and so was the world-building. This might have been a personal thing, but I couldn't wrap my head around this new planet that the story takes place on. *shudders*
3 – This Shattered World is told from the two main characters' perspectives, Jubilee and Flynn, but their voices are literally the same. Sometimes I would be reading and I would think, "Wait, who's talking again?"
4 – NO CHEMISTRY. I CRY. In These Broken Stars, Lilac and Tarver's romance was oh-so-believable and lovely, while Jubilee and Flynn's was not. After flipping the last page, I still don't believe in how they fell in love. Nope.
5 – the issue of the story is continued from book one. I understand that book one and two are companions in a series, but I really think Jubilee and Flynn should have encountered their own issues in their own story, not taking bits and pieces from Lilac and Tarver's.
Looking at the Goodreads ratings for This Shattered World, I think I may be the black sheep on this one, but I was thoroughly disappointed. I do hope that others still give this one a try if they loved the These Broken Stars, and that they will have better luck on this sequel than I did.