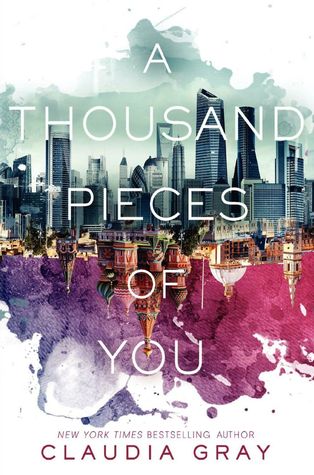 A Thousand Pieces of You by Claudia Gray
Publisher: Harper Teen
Release Date: November 4, 2014
Pages: 368
Source: Edelweiss/HarperCollins
Rating: 4.5 out of 5
I think we can all agree how beautiful the cover for A Thousand Pieces of You is. There's nothing more disappointing than a beautiful cover but an awful story. After finishing this book, I can happily sigh with relief, since A Thousand Pieces of Youabsolutely blew me away with its world-building, characters, and emotions.
I always love a good parallel/multiple dimension story, and I think Claudia Gray did a fantastic job in A Thousand Pieces of You. The story behind the adventure and dimension-travelling is a fascinating one, and the world-building was certainly easy to understand, yet complex. It's one thing to have an awesome world and not be able to communicate its complexity well, and it's a whole different thing to have an awesome world and to be able to have it understood by an audience. In this case, it was  the latter. Information was delivered smoothly and without any info-dumping. I loved the concept of the Firebirds and their functions. Every universe that the main characters lived through were extremely well-developed.
Additionally, the characters in this book were fantastic. Of course, with multiple dimensions in the story, there will be instances where characters are seen in a new light based on their surroundings and circumstances. I really enjoyed how Gray explored new sides of the same few characters, how one subtlety in the character distinguishes one universe from the next. The main character Marguerite was a really strong main protagonist in all of the universes. She's the daughter of two scientists, and while she is the black sheep of the family because she is the artist, she is still clever and understanding. I like that she has sympathy for others.
The most surprising component in A Thousand Pieces of You was unequivocally its emotional side. I was so NOT expecting this story to be so emotional! I imagined it to be thrilling, action-packed, and science-y. It was all of those, but so much more. Tying it back to the meticulously created characters in each universe, there is also emotion added to how Marguerite deals with her friends. It's very well near heart-wrenching, and I loved that about this book. Don't you love it when something is unexpectedly pleasing?
I think what makes A Thousand Pieces of You so endearing is its well thought-out world, complex characters, fast-paced plot, and sentimental and even moral themes throughout the story. This sci-fi is not your typical sci-fi; it definitely reads like a contemporary, with a dash of thriller/mystery. I highly enjoyed A Thousand Pieces of You, and am dying for more in this beautiful trilogy.