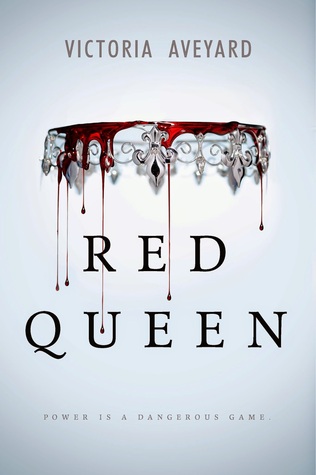 Red Queen by Victoria Aveyard
Publisher: Harper Teen
Release Date: February 10, 2015
Pages: 400
Source: Edelweiss/HarperCollins
Rating: 5 out of 5
When I love a book, I don't hold back with the fangirling.
Red Queen is no exception.
Red Queen was everything I expected and MORE. First, that cover made me say, "Damn, this book better live up to its appearance." And hell yeah it did! I saw Red Queen as a hybrid of The Hunger Games and Throne of Glass. YES, IT'S AS COOL AS IT SOUNDS. Basically, I love anything with cool powers, lots of action, court intrigue, and cute boys.
The concept intrigued me from the start. A society divided by blood type? Unheard of. AND SUPER POWERS, YOU SAY? Hooked. My interest and curiosity for this story peaked. Not only was the concept interesting, but the plot goes on without one slow moment. I was never bored! It's seriously so addicting, I would have finished Red Queen in a day if it weren't for my six IB course homework loads. *waves fist at IB*
The main character herself is extremely likable as well. Mare Barrow is by all means a criminal in the beginning, a thief. This didn't turn me away from her though. In a society like hers, it's understandable that she steals to provide for her family; Mare is realistic and loyal to them. Further into the story, we see Mare struggle and trudge through numerous pressing issues, making me root for her even more.
And man oh man… do you hear romance? What I love about Red Queen is that I think it will satisfy a wide range of readers; for those of you who don't like romance to overtake the plot, it certainly doesn't in Red Queen. However, that's not to say there is no romance. For romance junkies (me), there is just enough to quench that thirst. There are quite a few possibilities for the romance to expand, but I like how Aveyard took care of it in Red Queen.
THE ENDING. Ah, so intense. It seemed like I couldn't flip pages fast enough! So gripping, so action-packed, so RIVETING! All I can say is I am SO excited for the next book. Aveyard does not cease to surprise me with the plot!
I foresee Red Queen being the next big thing, or at least I HOPE it does. It's for sure one of my favorites of 2014, if not my favorite dystopian/fantasy of the year. Seriously, pick up Red Queen. It's entirely worth the read– trust me.