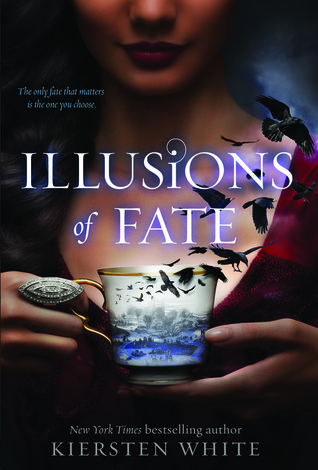 Illusions of Fate by Kiersten White
Publisher: HarperTeen
Release Date: September 9, 2014
Pages: 288
Source: Edelweiss / HarperCollins
Rating: 4 out of 5
Illusions of Fate is definitely my favorite book from Kiersten White! There's a level of new maturity in her newest novel, and yet, it's still fun and extremely enjoyable like her previous books.
What I Loved:
• World Building: I don't know how Kiersten White did it, but she manages to create a high fantasy world in a very succinct way, and withOUT info dumps! It wasn't confusing at all; instead, it was clear and easy to understand. I fell in love with this world!
• Jessamin (individually): what a very Kiersten White character! Jessamin is spunky and sassy, but so very endearing. She was qualities that I love in YA protagonists; she was brave and confident, and also very realistic in that she was confused about herself, just as all teenagers should be.
• Jessamin and Finn: YES. I ship them very hard. Jessafinn? Jinn? Fessin? I don't know. Either way, I LOVE THEM.
• The twist!!: The story was going along really well, and then BOOM there's a twist? SOO did not see that coming, but I really liked it! White really made my eyes bug out with that element of surprise.
What I Disliked:
NOTHING!
I am very pleased with Kiersten's latest novel– I think she writes fantasy very well! I'm certainly sad to see that this was a standalone, but what an impressive fantasy standalone at that! Definitely pick Illusions of Fate up if you're looking for a short, sweet fantasy that will leave you smiling from ear to ear.