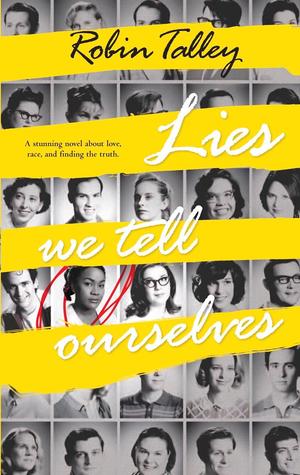 Lies We Tell Ourselves by Robin Talley
Publisher: Harlequin TEEN
Release Date: September 30, 2014
Pages: 384
Source: Netgalley/HarlequinTEEN
Rating: 4 out of 5
It's been a while since I last read an "issue" book, and I'm happy to say that 
Lies We Tell Ourselves
 is one that actually heavily impacted me and forced me to rethink a lot about what happened in the past, and how much or little we as Americans have progressed since then. 
Lies We Tell Ourselves
 is an important story that I think everyone should not only read, but will also enjoy.
Lies We Tell Ourselves is very much a story about segregation and the consequences of integration between blacks and whites in a school setting. This story is painful to read, but also uplifting because of the main protagonist we are given. Sarah Dunbar is a senior in high school and among the first blacks to integrate into an all-white school. Sarah is probably one of my new favorite characters in YA, simply because of the daunting, every-day school life she must endure. Bullying is a norm in her life, but she pushes through. Talley did an amazing job creating Sarah as a very admirable, diligent, and realistic girl.
Not only does this story deal with segregation in blacks and whites, but it also deals with homosexuality. Talk about diversity in YA! Lies We Tell Ourselves has it all– and yet, it didn't feel to burdensome in any way. We see how Sarah struggles with not only getting bullied at school, but also the internal struggle with her and her sexual orientation. The characters refer to God and Christianity quite a few times in this story, but I didn't feel like Talley was saying "PRAISE JESUS" ever in the story. It was very well balanced.
Overall, I am very impressed with Lies We Tell Ourselves. It surely packs a punch in it's realistic storyline in a historical setting (1959), admirable MC, and its acknowledgement of both equality and homosexuality. This is how history should be told. Through stories, not boring facts and dates. I am very highly anticipating Robin Talley's next book for sure!