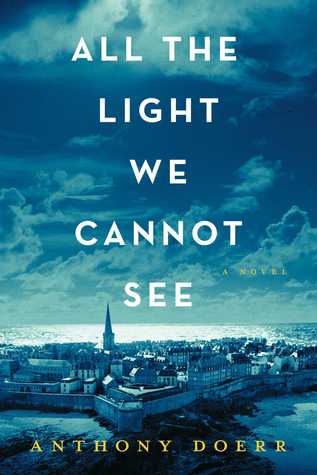 All the Light We Cannot See by Anthony Doerr
Publisher: Scribner
Release Date: May 6, 2014
Pages: 530
Source: Library
Rating: 5 out of 5
So I read Adult Historical fiction.
I've read AH before in literature classes at school, but never on my own. My choice of "fun" books will always be YA, but sometimes I can't stay away from those NYT Bestselling books. I've always been drawn to WWII and the Holocaust and such, so I figured I'd give All the Light We Cannot See by Anthony Doerr a try.
MAN WAS THAT A GOOD IDEA.
I am so utterly in love with this book. This is not your typical WWII book. I typically read WWII stories about the Holocaust and the victims that fall into the hands of the Germans, but this. This story was different. It's told in third person POV, but it follows the story of a blind French girl and a smart, orphan German boy. They know nothing of each other, but their lives cross late in the story, forming a beautifully crafted ending. The plot was thoroughly engaging and intense, and even more so, this story is told in alternating years. So in some ways, as the reader, we know what happens before the characters do. It's not confusing at all, and I was able to follow really well. Nevertheless, the plot/storyline was not the only thing that captivated me in All the Light We Cannot See.
The writing. Oh man, the writing. I'm not used to AH, or Adult in general since the writing is more complex and it takes me longer to read/comprehend, but I know for a fact that Doerr's writing is absolutely FREAKING GORGEOUS. It's vivid, descriptive, and so lyrical that I can imagine it's similar to Laini Taylor's in a non-fantasy way. I fell in love with Doerr's writing from the start. As a YA reader, I thought it was complex but still comfortable.
And man oh man, character FEELS. Marie Laure is blind. And young. The entire book takes place when she is 6-15 years old, so obviously some sympathy comes into play. I couldn't help but root for this courageous, curious girl. And then Werner, the smart German boy. I loved this little boy as well because of his intense curiosity for everything, and his ability to learn and take in information. The familial aspect was also to die for. I could feel the connection and close relationship Marie Laure had with her father, and then Werner's sibling-love for his sister, Jutta. The circumstances that Doerr places these characters in makes for great character development.
And finally, the ending. There was kind of an epilogue, but it was a good fifty pages. It's bittersweet, but I was definitely crying by the end. I was crying for the amount of hope this book evoked out of me for these characters, for love, for family. I was an emotional MESS when I finished this book at 4:30 in the morning. Goodness.
If all Adult Historical fiction books are as good as All the Light We Cannot See, then AH might just be my new favorite genre. I never knew I would love an AH book SO MUCH, but as it turns out, I did. All the Light We Cannot See is so, so special, and requires an even more special place in everyone's hearts.