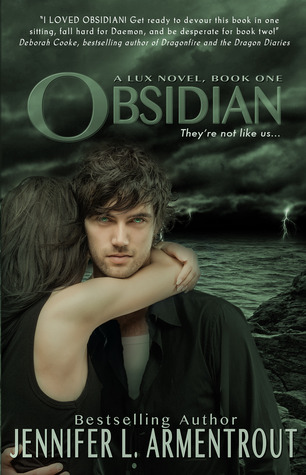 Obsidian by Jennifer L. Armentrout
Publisher: Entangled Teen
Release Date: November 23, 2011
Pages: 335
Source: Bought for Kindle
Rating: 4.5 out of 5
It's no surprise that Obsidian by Jennifer L. Armentrout has received a myriad of 5-star reviews and tons of hype surrounding the notorious Daemon Black. I was hesitant in picking this book up because of these reasons, but now that the entire series is out, I figured, "Hey, why not binge-read it, and see what I think of this series for myself?"
And man, that was a GOOD IDEA. I know Obsidian has been compared to Twilight in alien form, and while I can see the minor similarities, it didn't bother me at all. Armentrout makes her story unique enough that it stands well on its own.
There are so many things I loved about Obsidian; firstly, Jennifer's writing style. It's not superior or top-notch, but it's surely ADDICTING. There's something about it! I'm not sure how she does it, but it's GOOD STUFF. Next, the paranormal aspect–the aliens! I haven't read many YA books (or books in general) about aliens, and I love Armentrout's take on them. I'm so curious to learn more about the Luxen world. And finally, the characters and their relationships with each other. Katy and her all-nerdy, book-blogging, YA-loving self. Daemon and his sarcastic, flirty, sexy self. And even Dee, Daemon's twin sister & Katy's best friend, who is always hilarious and optimistic.
And goodness, the angsty romance!! It's SO push-and-pull, hot-and-cold, and antagonistic– I loved it! The amount of romantic tension is insane; I felt every emotion Katy was feeling for Daemon: anger, frustration, lust, and annoyance. It's so fun to read about!
I am thoroughly satisfied with Jennifer L. Armentrout's Obsidian. This is basically my first book by her (the only other I've read by her is Daimon, which is a novella), and it surely won't be my last! I am beyond excited to jump onto the rest of the Lux series– I need more Katy and Daemon in my life!