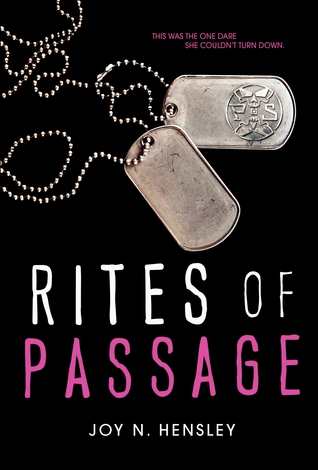 Rites of Passage by Joy N. Hensley
Publisher: HarperTeen
Release Date: September 9, 2014
Pages: 416
Source: Edelweiss/HarperCollins
Rating: 5 out of 5
Rites of Passage by Joy N. Hensley is a story that blew me out of the water. With an amazingly strong female protagonist entering a previously all-male military academy, Rites of Passage was inspiring, riveting, and a truly fantastic debut.
First thing's first: I have never read a book that is set in a military academy. From the beginning of the story, the setting was the first thing that intrigued me, and had me hooked. I knew from then that this protagonist would endure many different tasks than what I have read in other YA stories. Not that I've been to military school, but I think Hensley portrayed a realistic military school life appropriately and it was certainly believable. Dang, the drills they had to endure! I'm sweating just thinking about it!
Speaking of really intense workouts, Sam Mckenna, the main protagonist, is SO BADASS. Sam is a new favorite character of mine, one who perseveres through almost everything and anything, has a strong backbone, and can make her own choices. Plus, she has more endurance than half of the guys at the academy! I loved watching her overcome her struggles with bullying from the Corporal, other recruits, sexist treatment, and some family issues.
A quarter of the way through, I honestly wasn't sure if there was going to be a romance in this story. But by the halfway point, there is one without a doubt. And let me tell you, I fell for this love interest SO HARD. I'm like, dying over here. SO SWOON-WORTHY, SO PROTECTIVE, AND SO OFF-LIMITS, Y'ALL. I need more Stamm, please. PLEASE. *le sigh*
Hensley adds an interesting twist to the story as well. Because Sam is part of the first wave of girls to attend the academy, some boys want to kick her back out. There is something known as the Society, a mystery group of people who are involved. I thought this mystery was a great addition to the story and definitely kept things intense and going.
In all, Rites of Passage kept me hooked from beginning to end and had me flipping pages like a madwoman. With a unique military setting, a badass main character, and a riveting mystery twist in this story, it makes out to be a fantastic debut that surely shouldn't be missed.