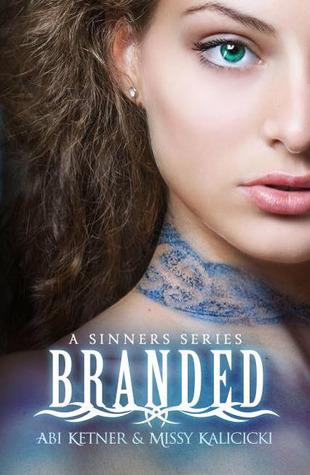 Branded by Abi Ketner & Missy Kalicicki
Publisher: self-published
Release Date: June 27, 2013
Pages: 380
Source: Netgalley
Rating: 3.5 out of 5
It's been awhile since I last read a self-published book. Branded by Abi Ketner & Miss Kalicicki certainly reminded me of how good they can be! The dynamic duo did a great job keeping me entertained throughout the entire book. While this was a captivating read, I had some issues with it.
Branded tells the story of a dystopian world that captures people who commit any of the seven deadly sins. These sins are pretty much a crime, and the sinners are branded a certain color (depending on the sin), and thrown into the Hole, a desolate town for Branded members. While I thought the reason behind this was cool, unique, and different from other dystopian stories, the concept quickly died off when it was less mentioned in the second half of the story. I wish the authors utilized the concept more. Instead, the romance took prevalence in the story during the second half.
I must admit, the second half of the story is very similar to other dystopians because of the rebellion aspect, and lost a bit of its initial originality. This was dull, but the romance was able to keep the story going a bit. DANG. Cole is so swoon-worthy! It's another one of those "forbidden" romances, but those are the best ones, right?
As for the main character Lexi, she definitely has her moments. There are times when I roll my eyes at how much she swoons for Cole's abs, but other times I'm just like, "Hey, I really like this girl. She's strong and can endure anything." I loved the faith she had in other people, like believing in her father and seeing her brother again.
On a side note, I loved the family LOVE in this book. Lexi has a few flashbacks of her dead father throughout the book, who plays a big role in who Lexi is as a teenage girl struggling to survive in the Hole. Yes for parental influences! And there's also this dog named Zeus, Cole's guard dog. I love it when animals/pets play a significant role in any story!
In all, I suppose Branded was pretty half-and-half with me. There were things I really enjoyed, such as the main character, family aspects, and unique dystopian. But there were also qualities of Brandedthat could have been done better, like maintaining the originality. The conclusion begs for more answers, so I'm thinking about possibly reading the sequel. Overall, Branded was a pretty good read!