I recently read both The Program and The Treatment back-to-back, so I thought I would do a series review! Below you will find a mini review for each book in the series, and then my overall thoughts. These reviews are SPOILER-FREE, so I hope you enjoy!
---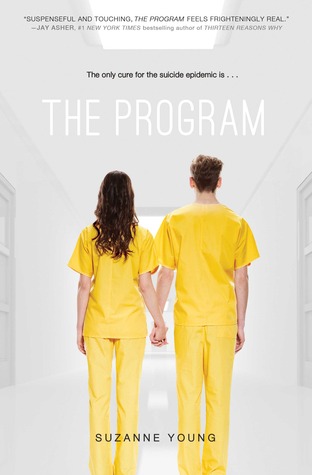 Publisher: Simon Pulse
Release Date: April 30, 2013
Pages: 405
Source: Online Audiobook Library
Rating: 4 out of 5
I first read The Program back in the summer of 2013, and I gave it 5 stars. Re-reading it a second time in the summer of 2014, I decided to give it 4 stars. It may be because I re-read it via audiobook (which was brilliantly narrated), but I hardly think that's the reason. The Program didn't WOW me the second time around like it did the first time; nevertheless, I still thought it was highly enjoyable.
What I loved the first time remained the same during the re-read. I really loved watching Sloane push through her struggles with her boyfriend, James, and staying strong for the both of them. Their love for each other is probably one of the strongest romances I have ever read. It's sincere, undeniable, and forever & always. In this dystopian world, it's something that's highly probable and realistic, unlike other dystopians I have read. It deals with real emotions that are plaguing teens today. The Program was an addicting and realistic dystopian and a fantastic series starter.
---
The Treatment – Book Two
Publisher: Simon Pulse
Release Date: April 29, 2014
Pages: 344
Source: Edelweiss/Simon Pulse
Rating: 3.5 out of 5
The sequel to The Program, The Treatment, definitely takes a different turn. I know many readers were disappointed with the sequel, but I think book one only surpasses the sequel by a little bit. Of course, to keep things fresh, new characters were introduced, and I have to say they were only mediocre to me. I didn't feel any deep connections with them because I only knew them for a short time. The romance from book one also becomes more of a love triangle–ultimately, it helps the story move along. Nevertheless, it was a tad annoying. The conclusion to the series was nice and wrapped things up, maybe a little too nicely, but still good overall.
---
Overall Thoughts for the Series
This dystopian duology is fast-paced and quite unique among the other dystopians out there. It deals with a lot more emotion and reads more like a contemporary, with a strong focus on romance (in a good way). If anything, most of these books are filled with dramatic irony, which can be frustrating and boring at times. However, the characters grow enough so that this is negligible. The Program andThe Treatment are books that I definitely recommend to all readers who love dystopian OR contemporary. I applaud Young for writing such an uplifting duology set in an oppressive society!