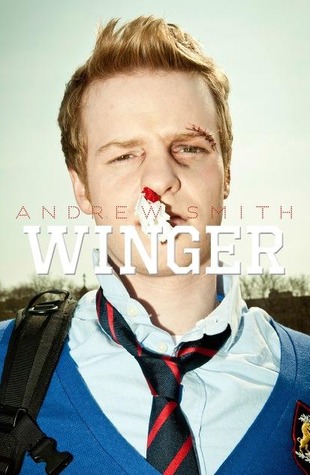 Winger by Andrew Smith
Publisher: Simon & Schuster
Release Date: May 14, 2013
Pages: 439
Source: Library
Rating: 5 out of 5
I've never laughed so much while reading a book before.
Winger by Andrew Smith is something so different and special, I knew it from the start. Ryan Dean West, a meager 14 year old junior at Pine Mountain, is adorably hilarious and has such a distinct voice in this novel. Smith is able to convey the perfect teen boy voice through Ryan Dean, and I absolutely adored his humor. What makes this story even better is the illustrations: the comic strips, graphs, etc. They MAKE the story.
Winger as a whole is a perfect portrayal of the everyday struggles of a teen boy. I cracked up at nearly every page, which is what I loved so much. The only thing that surprised me was the sudden depressing turn the story takes at the end. I was really shocked, to be honest. It's not a bad ending, per se, but it's definitely… sad. Very sad.
Overall, I am utterly impressed with Andrew Smith's writing and storytelling. Ryan Dean is such a lovable character and his time at Pine Mountain Academy is extremely entertaining and funny. I will, without a doubt, be picking up Smith's future novels.