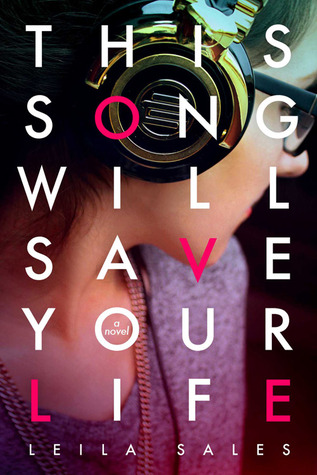 This Song Will Save Your Life by Leila Sales
Publisher: Farrar, Straus, and Giroux (BYR)
Release Date: September 17, 2013
Pages: 279
Source: Library
Rating: 3 out of 5
I remember all of the hype surrounding This Song Will Save Your Life when it first came out, and I just knew I needed to read this book. Unfortunately, I think I set my expectations too high for this book, because I was quite disappointed with it.
My main issue I had with TSWSYL was the main character herself, Elise Dembowski. Throughout the majority of the book, I just felt so bad for her. It wasn't even a type of sympathy, either; it was more like I pitied her. Here is a naïve character who can't get herself out of a situation she dug herself a hole into, and in fact, she just makes it worse by making all of the wrong decisions. Some of them made me face-palm myself. I pitied her that much. Elise, in my eyes, was desperate and lonely, leading her to fall for someone who was a complete stranger.
The only aspect I liked was of course, the music aspect. Who knew being a DJ could be so cool! Sales' vivid descriptions of the club wowed me and I loved the atmosphere.
This Song Will Save Your Life was loved by many people, but not by me. I couldn't bring myself to like the main character, and the only thing keeping me reading was the musical aspect of this book. Nevertheless, I am glad I picked it up because I think it deals with really important bullying lessons that I think every teenager should know.