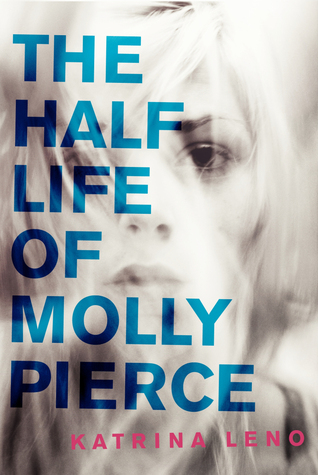 The Half Life of Molly Pierce by Katrina Leno
Publisher: HarperTeen
Release Date: July 8, 2014
Pages: 240
Source: Edelweiss/HarperCollins
Rating: 3 out of 5
For me, The Half Life of Molly Pierce by Katrina Leno is one of those books where it's difficult to write a review for. I don't want to spoil anything obviously, but I don't have much to say anything about it. This story is a psychological thriller, and while it started with a bang and had me intrigued instantly, I was quite bored with the rest of the story.
There really isn't anything wrong with The Half Life of Molly Pierce; I didn't hate any of the characters, but I didn't love them either. The psychological aspect was confusing and weird at first, but then it was crystal clear what the situation was by the halfway point, leaving the rest of the story kind of bland. I'm the type of psychological reader who likes to find out the answer the problem at the VERY VERY END, leaving me in a complete mind-fuck situation. I didn't get that in The Half Life of Molly Pierce.
I honestly don't know what else to say about this book; I'm not sure I can entirely recommend it, either. It's not the best psychological thriller out there, but it IS a really short story to speed through if you need some entertainment.