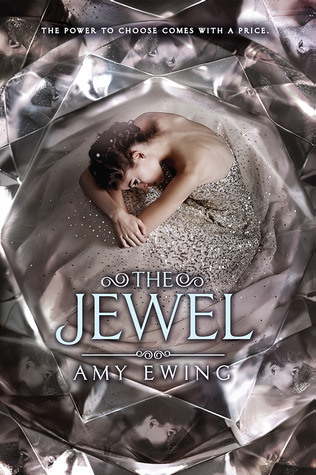 The Jewel by Amy Ewing
Publisher: HarperTeen
Release Date: September 2, 2014
Pages: 358
Source: Edelweiss/HarperCollins
Rating: 5 out of 5
Let's be real here. I honestly can't pinpoint exactly why I loved The Jewel so much.
I just know that I couldn't stop reading, the story was really addicting, and that I was in love with the concept.
But I suppose I can break it down for you:
1. The Premise: The premise itself is a bit similar to Wither by Lauren DeStefano in that women are forced to be impregnated, but that's where the similarities end. The concept of surrogates is really similar to slavery, and I think that's why I was so intrigued by it. They are auctioned off to royals who buy them according to their skills, and the girls are even ranked. SO DIFFERENT AND COOL, and sick, in a way. But still awesome.
2. The World-Building: okay, I admit, there were parts in this book where I thought the world building was both weak and strong. It wasn't weak because of info dumps (there weren't any), but I just still had so many questions. I still have no idea if this story is set in America, if it's like a post-apocalyptic, the time period.. WHO THE HECK KNOWS. But I do love the concept of world when it WAS really well explained. I think there's definitely room in the sequel to really flesh out this world.
3. The Characters: I really loved the main character, Violet. My heart instantly reached out to her since she's a victim of surrogates. As the book progressed, I could feel her internal struggles and conflict, as well as her defiance among the ruling royals in the Jewel. I was really sympathetic toward Violet's best friend Raven as well, who, unfortunately, got the short end of the stick.
4. The Rooomaance: oh dear. The romance is definitely.. Interesting. It doesn't show up until halfway through the story. And let's be honest, I have NO idea where it's headed in book two. I have guesses, but oh man. You'll have to read to see what I mean. 😉
5. The Politics/Morals: The Jewel contains a lot of important topics that I think can definitely be discussed in depth. I question a lot of the characters' (especially people at the top of the social hierarchy, the royals in the Jewel) morals. Is so-and-so REALLY the right way to go? There's a lot of deception and sneaky dystopian world stuff going down, so that's what kept me hooked a lot of the time.
6. THE PARANORMAL ASPECT??: SO COOL. Unheard of in a dystopian book, unless you compare it to Shatter Me, but not really. I love the way Ewing integrated it into being a surrogate.
7. Ball Gowns and Castles, basically: so there's a lot of dressing up like a princess and living in big, luxurious castles and parties and OPULENCE in this book. I don't know why, but I'm SO DRAWN to those types of things. Plus, Ewing does a fantastic job with the imagery.
Did I miss anything? I pretty much just dumped my thoughts because there was just SO MUCH that I loved in The Jewel. And by the way, there's a cliffhanger. WHAT WHAAAT? Yes, it made me love the book more. The Jewel isn't perfect, but I loved it anyway. It's really an addicting read, and I NEED BOOK TWO NOW PLEASE. Pretty please? With a crown on top? No? Okay…
But seriously. Please read The Jewel.