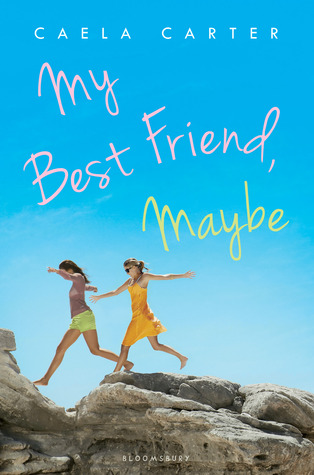 My Best Friend, Maybe by Caela Carter
Publisher: Bloomsbury USA Childrens
Release Date: June 3, 2014
Pages: 352
Source: Netgalley/Bloomsbury
Rating: 2.5 out of 5
My Best Friend, Maybe by Caela Carter deals with every type of love you can think of: family relationships, friend relationships, girl-to-girl, and of course, girl-to-boy. While I love how Caela deals with all of these significant and realistic topics, I had a hard time enjoying this book because of the characters.
The first half of the story is confusing and extremely vague, leading to a very slow-paced start. Our main character Colette has been separated from her best friend Sadie for a few years now, because of a mysterious reason that Colette doesn't know of. The reader is also kept in the dark. However, I couldn't bring myself to care for the reason why. I wasn't emotionally connected to the characters because I didn't really like Colette; she was constantly dishonest with her family, and her boyfriend. And then there's Sadie. The reader later finds out more about Sadie and the reasoning behind her motives, and that just made me dislike her even more. Her logic doesn't make any sense to me. Their misunderstanding just shows that they were never actually best friends. It frustrated me to no end.
I apologize if that was ranty, but I honestly could not find a character I liked in this story, other than a minor love interest. What bothered me the most was Colette's mother, an extremely religious homophobe of a woman who utterly pissed me off. I was not a happy reader.
On the brighter side, I absolutely loved the setting of My Best Friend, Maybe— Greece! Carter's descriptions were so atmospheric and beautiful, it makes me want to go there so badly!
As a whole, I am thoroughly disappointed with My Best Friend, Maybe because of my inability to connect and adore the characters. It was difficult, and I struggled to care about their problematic situation and petty drama. Although I didn't enjoy the protagonists in this story, I still am curious to read Carter's books. I hope that in Caela Carter's future books, I am able to like her characters.