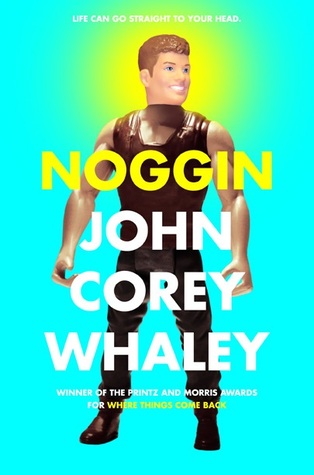 Noggin by John Corey Whaley
Publisher: Atheneum Books for Young Readers
Release Date: April 8, 2014
Pages: 342
Source: Library
Rating: 5 out of 5
I read John Corey Whaley's Where Things Come Back about two years ago, and I knew since then that he was an author to look out for. His writing evokes thought that can't be found anywhere else in the young adult genre. So when I picked up Noggin, I knew I was in for some good stuff.
Noggin's plot is unlike anything I have ever read, I mean COME ON, cryogenically frozen heads?! You can't get any stranger than that. But what Whaley does so well is that he takes this situation and teaches life lessons you can't get anyway else. The plot makes it so possible to talk about the concept of moving on from the past, and I can't imagine any other situation where you would be able to do that.
Moreover, the characters in this story were so incredibly lovable. Readers are able to journey along with Travis Coates as he discovers himself a second time, this time with a different body. He reconnects with old friends, and makes one new one. Travis is the definition of a teenage boy, and I think Whaley embodied TEEN so well on Travis.
Goodness, if you can't already tell, I loved Noggin. I can't recommend this book enough, it was DARN GOOD. I thought Whaley's debut Where Things Come Back was amazing, but Noggin is even better. Pick this one up if you're in for something quirky, something heartfelt, or something thought-provoking. I am not joking. This book is all sorts of awesome.