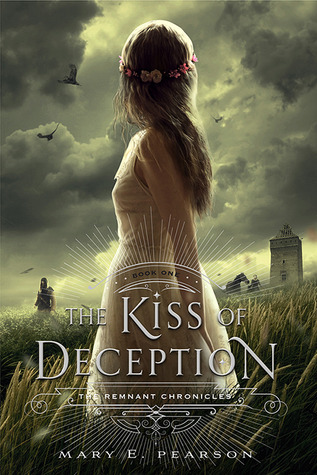 The Kiss of Deception by Mary E. Pearson
Publisher: Henry Holt & Co. BYR
Release Date: July 8, 2014
Pages: 496
Source: Netgalley/Macmillan
Rating: 5 out of 5
The Kiss of Deception is exactly the type of fantasy I love reading about–not one with dragons, but rather, one with a magical air of mystery and rivalries among the kingdoms. While this book has a much stronger focus on romance than the usual fantasy story, there is much space for the magical elements to be developed.
There are many things I loved about
The Kiss of Deception
. Firstly, the multiple perspectives. For the first half of the story, the reader doesn't know who actually is the assassin, or the prince. I loved that this kept me curious and wanting to read more, but this also disconnected me a little bit between the two male love interests. Luckily, Pearson remedies this in the second half of the novel when readers find out which boy is the assassin and which one is the prince. Additionally, I fell in love with not only the main character, but also the side characters as well. The princess, Lia, is lovable in so many ways because of her strength, bravery, and curiosity. These are all traits I love to see in a heroine. The side characters were especially admirable because they nurtured her in becoming a stronger woman. The romance itself–yes, it is a love triangle, but not an annoying one! To be honest, I'm quite torn as to which boy I like better. I'll have to see as the series develops…
Furthermore, the atmosphere and setting in The Kiss of Deception was spot on and perfect. I think it really enhanced the storytelling and the characters' growth. Set mostly in a village and an inn, it was innocent but full of possibilities in itself. I loved it.
The magic aspect is a bit confusing throughout the story because not much is revealed, and with addition of a different language and multiple passages, I was quite lost. However, it did not hinder my reading experience. It's full of potential and I trust Pearson to reveal the knowledge of this world in the following books.
In all, while The Kiss of Deception had a few teeny tiny flaws, I overlooked most of them because they are easily redeemable in following books. This book has to be one of the best (if not THE best) non-contemporary book I have read all year. Definitely check this one out if you're in for a swoony assassin and prince, wonderfully developed characters, and a spot-on fantasy atmosphere.