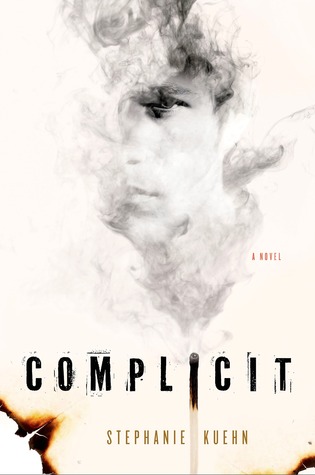 Complicit by Stephanie Kuehn
Publisher: St. Martin's Griffin
Release Date: June 24, 2014
Pages: 256
Source: Netgalley/St. Martin's Press
Rating: 4 out of 5
It's always those psychological thriller books that have me thinking by the end:
What did I just read? Did I even understand what I read? Is my brain comprehending this??
(clearly not.)
For real though, Complicit blew my mind. It's a short and exciting read, one that begs to have its pages flipped quickly. The premise is creepy and unlike anything I've ever read–more importantly, it's told from the perspective of a teenage boy. This is the first that I've read from Stephanie Kuehn, but it sure won't be my last.
What I loved the most about
Complicit
was probably the way the story is told. It's kind of told in a dream-like quality, very atmospheric and eerie. Not only this, but the story jumps back and forth between the past and the present. What the main character Jamie remembers, but perhaps not what actually happened. There's a suspension of time, and I was fascinated throughout because of this. Kuehn's storytelling is outstanding and utterly gripping.
At this point, I'm still kind of blown away by the characters and the somewhat character development. To be honest, I don't have any emotion toward the main characters Jamie and Cate. Do I like them? No… but I don't hate them either. It's more of a feeling of sympathy, or rather, pity. THEIR LIVES ARE SO. MESSED. UP. I think the only thought I can muster up at this point is boy, am I glad I'm not in the same situation as them. I can't even imagine the internal/mental conflicts they have to experience in myself, but Kuehn portrayed it really brilliantly for sure.
Complicit is really addicting and intense–and kinda spooky, but darn good. THAT ENDING THOUGH. Oh, the rage. I have absolutely no idea what happens to Jamie. None. Whatsoever. There's that overlying and continuing mystery, but I need to know. I can't accept not knowing what happens. Sigh.
If you certainly don't mind an ambiguous ending and love an awesome psychological thriller story, do pick this one up. It's mind-blowing and unexpected, and Kuehn's writing style is an added bonus. Definitely not a disappointment!